Aille Engaged is a Citizen Science project that aims to increase local awareness of the dynamics of rainfall and river flow in the catchment area of the Aille River in North Clare. The project is supported by funding from Geological Survey Ireland and is managed by hydrogeologist Dr. Tiernan Henry, Earth and Ocean Sciences department NUIG and geologist Dr. Eamon Doyle, Burren and Cliffs of Moher UNESCO Global Geopark. Local citizen science participants are provided through the Lisdoonvarna Historical Society, Lisdoonvarna Fáilte and other local residents that live in the catchment area of the Aille River.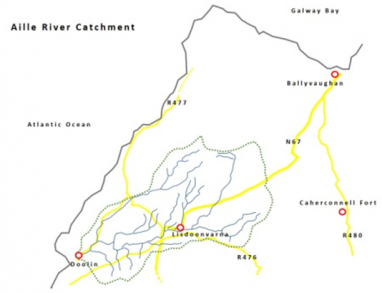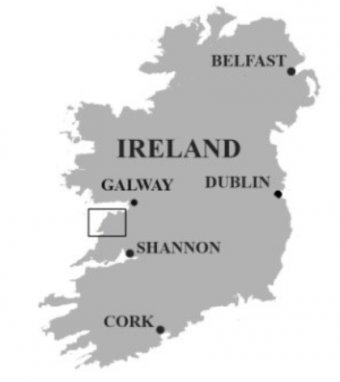 The Lisdoonvarna Historical Society were awarded LEADER funding in 2018 to install an exhibition in the old dancehall beside the Spa Wells which outlines the history of Lisdoonvarna, and they are now working with the Burren and Cliffs of Moher Geopark UNESCO Global Geopark to add a water awareness element to their exhibition for the local community and visitors alike. The Aille Engaged project developed from conversations with Lisdoonvarna Historical Society following the success of Uisce Aille a Lisdoonvarna secondary school Transition Year Aille River catchment mapping project developed by Dr. Henry and delivered by Grainne Barron which was a winner at ECO –UNESCO Young Environmentalists Awards 2017.
Working with Lisdoonvarna Historical Society, Lisdoonvarna Fáilte and the discipline of Earth and Ocean Sciences (EOS) at NUI Galway, we have developed a pilot network of water observers around the catchment and present the data (rainfall in mm and river level in cm) in near real time here on the Geopark website.
Local engagement with rivers can only be fully realised when a community sees their experiences and knowledge reflected in stewardship and shared ownership of their catchment. And what better way to encourage awareness, pride, and participation than through engagement with local stakeholders, giving them with the skills that allow them to become knowledge generators, rather than just knowledge recipients.
The accompanying data is all generated by local observers with hydrological interpretive input from Dr. Tiernan Henry; EOS, NUIG.
We thank the OPW for their advice and support in measuring river levels in the Aille River.