Get your taste buds ready for a weekend of food, fun and fascinating stories and innovation, at the Burren Slow Food Festival 2022. It is the first time that the festival  in person since 2019 and we couldn't be more excited.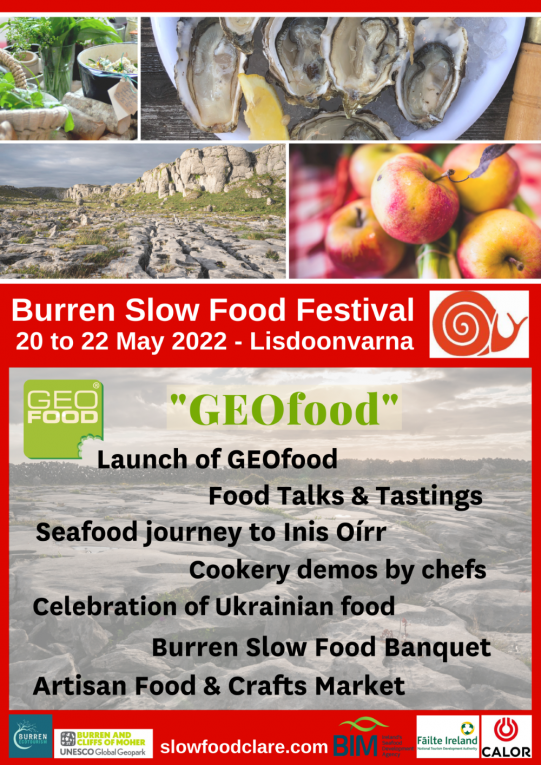 The festival will kick off with a Seafood Journey to Inis Oirr on the Friday night. On Saturday, the launch of the GEOfood initiative will be followed by fascinating talks by experts and tastings of delicacies by local GEOfood producers. In the afternoon, a foraging walk will be offered in the park in Lisdoonvarna. The Burren Slow Food Banquet will provide a wonderful end to the second day of the festival.
On Sunday, the limelight will be on Ukrainian food culture with a cookery demo by Ukrainians, followed by a demo by renowned chef Jess Murphy from KAI restaurant Galway and Niamh Fox (formerly from Little Fox, Ennistymon). They will cook a Ukrainian recipe using local produce.
GEOfood
We are very excited about the launch of GEOfood in the Burren and Cliffs of Moher UNESCO Global Geoparks which takes place on the Saturday of the Burren Slow Food Festival. The launch will include insightful talks and delicious tasting sessions from our GEOfood producers. presentations from food growers, sellers and managers and informative talks about GEOfood given by its founder and our Geopark manager.
GEOfood is a brand for local food within UNESCO Global Geoparks. It aims to connect people with the local traditions, geology and heritage of the place through local food. With such a strong tradition of food production that dates back for thousands of years, GEOfood is a natural fit for the Burren and Cliffs of Moher UNESCO Global Geopark. There are countless food stories to be illuminated, in the Geopark and that is what we aim to do.
This is just the beginning….
For more information on GEOfood, click here
Tickets for the Burren Slow Food Banquet can be booked here
Details for the Festival
Location:
The Pavilion, Lisdoonvarna, Co. Clare
V95 YW1C
www.slowfoodclare.com/festival/
065 7074432