Outdoor Ethics
Leave No Trace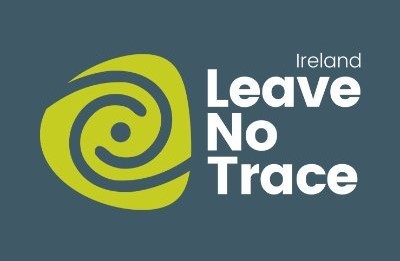 Leave No Trace Ireland aims to promote and inspire responsible outdoor recreation through education, research and partnerships. Leave No Trace Ireland began in 2004 as a concerted effort across a range of recreational and land-managing bodies to address the increasing burden of negative impacts on the mountains. Today, Leave No Trace Ireland exists as a not-for-profit company run by volunteers and employing one part-time person.
At the heart of Leave No Trace is an educational message that encourages us as recreational users to understand the consequences of our actions, and challenges us to make good choices when we do our activities in the outdoors. The Leave No Trace programme uses a framework of seven principles to guide us towards better choices:
1. Plan Ahead and Prepare
2. Be Considerate of Others
3. Respect Farm Animals and Wildlife
4. Travel and Camp on Durable Surfaces
5. Leave What You Find
6. Dispose of Waste Properly
7. Minimise the Effects of Fire
The Burren & Cliffs of Moher Geopark endorses the Leave No Trace message, we aim to adhere to Leave No Trace during all outdoor activities and events and we have incorporated Leave No Trace into our training programme.
To learn more about the Leave No Trace programme, visit www.leavenotraceireland.org.
Fossil Collecting Policy
Fossils are the mineralised remains of living creatures that have been preserved in rock. They are important for understanding the history of Life on Earth, for telling us the age of rocks and for correlating rocks across different regions or even continents.
The Burren and Cliffs of Moher UNESCO Global Geopark is signatory to the European Geoparks Network Charter which forbids the sale of fossils and mineral specimens by its partner organisations.
The Geopark does not promote the collection of fossils from within its boundaries, indeed their collection from sites within the Geopark which are designated as Special Areas of Conservation (SAC) is forbidden by law, other sites are covered  by Irish Geological Heritage Programme  which is  managed by the Geological Survey of Ireland (http://www.gsi.ie/Programmes/Heritage+and+Planning/County+Geological+Sites+Audits/) and these sites are recognized by Clare County Council under the Planning and Development Act 2000
Limited collection for academic research or education purposes is acceptable once the relevant permissions have been secured from the National Parks and Wildlife Service which is the national legislative authority responsible for managing SAC's.
What to do if you find a fossil.
If you do come across a fossil in the Burren please photograph it, note the precise location and send the image to info@burrengeopark.ie. The Geopark geologist will assess it and will provide you with information about the fossil.  You will be given due credit if it turns out to be something new!
While we encourage you to share any photographs you may have taken, please do not put specific location information of any fossils on social media or websites.