About Lahinch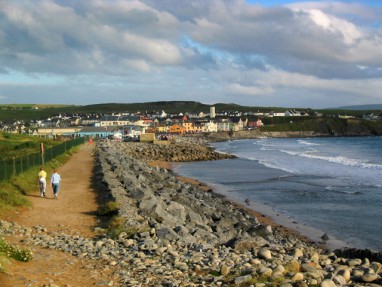 Lahinch/Lehinch (Irish: An Leacht or An Leacht Uí Chonchubhair, meaning 'The Memorial cairn of O'Connor') is a village on Liscannor Bay, on the northwest coast of County Clare, in northern Munster, Ireland.
The village is a widely known seaside resort and is home to the world famous Lahinch Golf Club. There is also a 1.6 km (1 mi) sandy beach at Lahinch. Lahinch has long been a popular destination for golfers, but in recent times, has also become a popular resort for surfing.
GPS:
52.933612, -9.347863
Additional Information
Surfing, Rock Climbing, Archery and Cycling
GPS:
52.617255, -9.381845
Additional Information
Trailheads: The cycleway starts and ends at Killimer.
Services: Killimer, Kilrush, Kilkee, Miltown Malbay and Lahinch.
Distance: 70km
Time: Approximately 1.5 - 2 days
Difficulty: Moderate to Difficult
Terrain: Relatively flat with occasional short climbs along the route
To Suit: Suitable for people of medium levels of fitness

Map available in 'Other Information'

Downloads:-
...
...
...