About Killinaboy (also spelt Kilnaboy)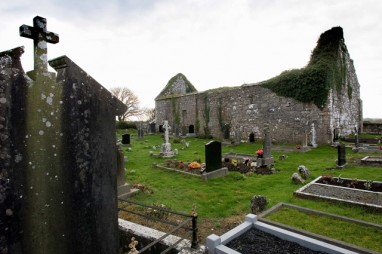 Cill Iníne Baoith – The church of the daughter of Baoith.
Killinaboy lies between Corrofin and Kilfenora.  As you travel from the south you are greeted by the 11th century medieval Church and the remains of a round tower. Across the way is the former Post office which is currently the home of "X-PO", which has been re-opened as a Community and cultural centre for the Parish of Killinaboy.
Mullaghmore lies a few miles to the east of Killinaboy village while at Roughan hill can be found a replica of the world famous Tau Cross. Castles in this parish include Lemenagh which was the home of the infamous Máire Rua as well as Inchiquin castle. The Parish of Killinaboy has over 300 items of antiquity alone and is a favourite place for both the Botinist and Burren rambler alike.
GPS:
52.984049, -9.037414
Additional Information
A FREE bus runs from Corofin to the Burren National Park through the summer.

Visit the Burren National Park information Point at Clare Heritage Centre, Corofin National Park for further information.

The information point is open April: Wednesday to Sunday 10-5 / May, June and September: everyday 10-5 / July and August: everyday 10-6

Take a guided walk
Learn more about the National Park…its secrets and stories with local guides; Tony Kirby of Heart of Burren Walks and Marie McGuarin of Burren Experience Guided Walks.

Self Guided walking map is available in 'other information'

The Burren National Park is a Geosite.

'Follow the Nature Trail and Walking Routes to view limestone pavement, calcareous grassland, hazel scrub, woodland, turloughs, lakes, petrifying springs, cliffs and fen. Your journey of discovery will lead you towards the folded limestone layers of Mullaghmore – a mountain buckled and warped by ancient movements of the Earth's crust.'
Downloads:-
Address:
Contact Tony Kirby
Kilnaboy
Co Clare

Additional Information
Heart of Burren Walks offers a wide variety of guided walks in the majestic, rocky Burren. The menu includes a summer scheduled progamme in the Burren National Park, archaeology walks, spirituality walks and weekend walking breaks.
Address:
Kilnaboy
Co Clare

GPS:
52.987428, -9.139643
Additional Information
Today, the ruins include both the tower house and the four walls of the adjoining manor house with their mullioned windows. Unlike many of the castles in Ireland, Leamaneh is unmaintained and though it is walled off there is no true visitors center and no price for "entry." The castle stands on the corner of a three-way intersection in what is known as The Burren in western Ireland


Address:
Kilnaboy
Co Clare

GPS:
52.970263, -9.085924
Additional Information
Kilnaboy Church is a medieval church dating from the 16th century and probably earlier. It was repaired in 1715. The large rectangular church has a large cross-of-Lorraine detailed in raised stonework on its west gable.
Additional Information
Trailhead: The Trailhead is located at lay by on the right at Gortlecka Crossroads, near Mullaghmore, in the Burren National Park, Co. Clare. GR: R 304 945

Services: Services available seasonally at Carran, year round at Corofin

Distance/Time: 5.5Km/2 hrs 30 mins
Difficulty: Very difficult
Terrain: Remote/upland
To Suit: High fitness levels

Map available in 'Other Information'

Downloads:-
...
...
...
Address:
Kilnaboy
Co. Clare

GPS:
52.974244, -9.097195
Additional Information
Open Monday to Friday 9am to 6pm
Address:
Kilnaboy
Co. Clare

GPS:
52.972325, -9.079782
Additional Information
For mass time please go to the website