Lisdoonvarna Students Exploring Geotourism through Art
04.06.2019
The transition year students of Mary Immaculate Secondary School in Lisdoonvarna got the chance to brief and work with local sculptor Jethro Sheen on a piece of art exploring the concept of geotourism for their school's new wellness garden.
The initiative of exploring geographical themes through art was developed by the Burren and Cliffs of Moher UNESCO Global Geopark as a way of engaging the students in a discussion on the uniqueness of their landscape and the importance of its sustainable development.
'By placing an artist in a local school to work with its students on developing a brief and subsequently a piece of art based on the ideals of Geoparks and Geotourism we hope to raise awareness among the future guardians of the landscape around the importance of their landscape and the need to develop it sustainably' commented Dr. Eamon Doyle, Burren and Cliffs of Moher Geopark Geologist.
'Through this engagement, we hoped to create a fun learning environment and to encourage conversations around the landscape, the environment, geotourism, local life and art as a form of recording and documenting' he continued.
'The programme was a hugely valuable learning experience for the students as they got to experience the process of developing and interpreting a brief in a given subject, debate the topical issue of sustainable landscape development and gain hands on experience in stone work' commented Mona Hynes, deputy principal, Mary Immaculate Secondary School, Lisdoonvarna. She continued 'The students were delighted with the final piece and it sits proudly in the schools new wellness garden'.
The initiative forms part of the Burren and Cliffs of Moher Geoparks involvement in the European Atlantic Geotourism Route project which celebrates outstanding geological landscapes in the Atlantic Area. Funded through the EU- Interreg Atlantic Area programme and cofounded by Clare County Council the project is using UNESCO Global Geoparks to support the development of sustainable geotourism in a number of dramatically stunning landscapes.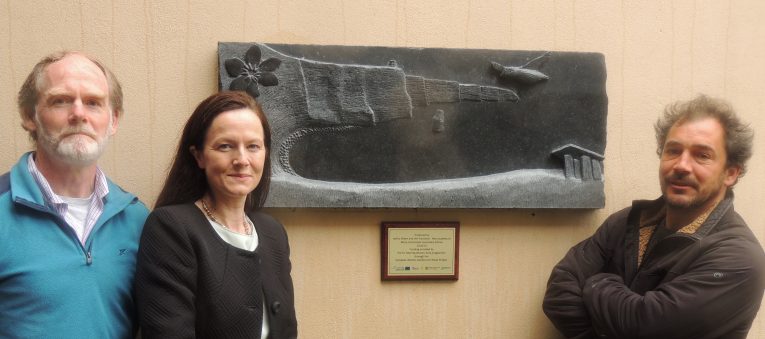 More about the Interreg Atlantic Area Programme
INTERREG Atlantic Area is a European funding programme that promotes transnational cooperation among 36 Atlantic regions of five European countries. With a total budget of € 185M, being €140M of European Regional Development Fund (ERDF), this programme co-finances cooperation projects in the fields of Innovation & Competitiveness, Resource Efficiency, Territorial Risks Management, Biodiversity and Natural & Cultural Assets.
The Atlantic Area covers the western part of Europe bordering the Atlantic Ocean. It comprises regions from the western part of the United Kingdom, Ireland and Portugal as well as the northern and south westernmost part of Spain and western France.
The Programme main objective is to strengthen the integrated territorial development and cooperation in the Atlantic area. http://www.atlanticarea.eu/