St. Tola Irish Goat Cheese is a multi-award-winning and internationally recognised artisan cheese business located near Inagh to the Southeast of the Burren and Cliffs of Moher UNESCO Global Geopark. They make a delicious range of goat milk cheese which are all produced from 100% Irish goats milk. They are a favourite for many famous chefs, retailers, hoteliers and cheese lovers throughout Ireland and beyond.
Story
Heritage is ingrained in the philosophy of St. Tola Irish Goat Cheese. The farm where the business dwells once belonged to the grandfather of the owner of St.Tola's, Siobhán Ní Gháirbhith, and in 1999, Siobhán got the opportunity to reconnect with this land when she took over St. Tola Irish Goat Cheese from its original owners when they retired.
Since then, St. Tola Irish Goat Cheese has become an internationally recognised cheese brand. It has grown from a small industry of 70 goats to one of 350 goats, 8 employees and a unique food tourism farm experience.
The Land
The soils at St. Tola Irish Goat Cheese farm are rich in mud and peat and are kept wet by the steady flow of rain which comes in from the nearby Atlantic Ocean. Land this soft is not ideal for traditional farming methods. This led to the alternative practice of goat farming in the region. The geology at St. Tola Cheese farm affects the type of soil there. Beneath the soil, the rocks consist of sandstone, and shales, the same rocks you can see at the Cliffs of Moher. However, there are also traces of other rocks which travelled over 40-50km south during the last ice age c. 20,000 years ago.
The St. Tola Irish Goat Cheese team pride themselves in farming as sustainably as possible. Their goats are settled on fresh grass pastures throughout the Summer months, and in Winter they are fed rich haylage which they harvest from their own land. Their cheese products carry the rich natural flavours of the land. The goats graze on the unique flowers and herbs of the region which have been seasoned by the salt sea air of the Atlantic Ocean, which is located just 7 miles west of the farm.
Sustainable Practice
The owners are longstanding members of the Burren Ecotourism Network of sustainable tourism businesses and adhere to the Geopark Code of Practice in Sustainable Tourism.
For more information on St.Tola Irish Goat Cheese, and to learn about their wide range of products and their farm experiences, visit www.st-tola.ie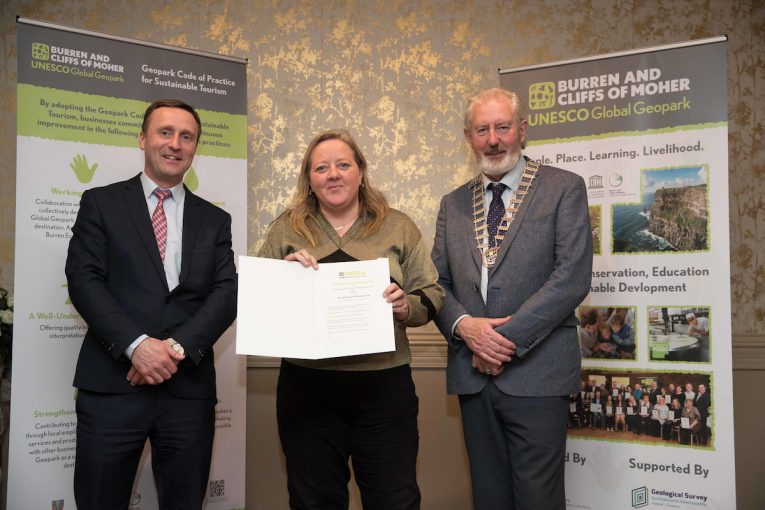 Mostly Photographs by Eamon Ward Photography