Linnalla Pure Irish Ice Cream is an ice-cream producer located in New Quay in the Northern part of the Burren and Cliffs of Moher UNESCO Global Geopark. Brid and Roger Fahy and their family produce a delicious range of ice-cream flavours which they serve in their café located on the family farm. The ice-cream is produced on their farm with milk and cream from their own herd of shorthorn cows which are a native breed in the Burren. This all takes place during the Spring and Summer months after the cows have calved.
Story
Linnalla Ice Cream started producing ice cream using fresh milk from their farm in 2006. Initially, they were supplying ice cream to local businesses within the Geopark but as their popularity grew, they moved further afield to serve various other businesses along the West Coast of Ireland. By 2010, they were selling their ice cream nationwide and families throughout the island of Ireland could enjoy this delicious treat.
In the following year, their business took an exciting new direction. They opened an ice cream parlour on their farm to sell their produce directly to customers. The parlour is based just off the Flaggy Shore, which is a very popular walking route in the Geopark that has a beautiful view of Galway Bay. The immense popularity of the parlour led the Linnalla team to withdraw the nationwide distribution of their ice-cream to focus on the customers they could meet and treat in person in their café.
The Land
Surrounded on 3 sides by the sea, the farmland at Linnalla Pure Irish Ice Cream has a strong influence of Wild Atlantic salt sea air. It dwells on the oldest geological part in the Geopark which is comprised of limestone, chert and dolomite. The soil where the cows graze was developed on sands and clay that were deposited by moving melting ice sheets almost 20,000 years ago. This limestone-rich sandy material gives a well-drained character to the soils, which is great for the dairy farming that takes place on the land.
Many of the ingredients that the team use in the ice-cream are grown locally, and such ingredients as the wild Burren hazelnuts, sloes, blackberries and many more are foraged in areas in the Geopark.
Sustainable Practice
The owners are longstanding members of the Burren Ecotourism Network of sustainable tourism businesses and adhere to the Geopark Code of Practice in Sustainable Tourism.
For more information on Linnalla Pure Irish Ice Cream, and products, visit https://www.linnallaicecream.ie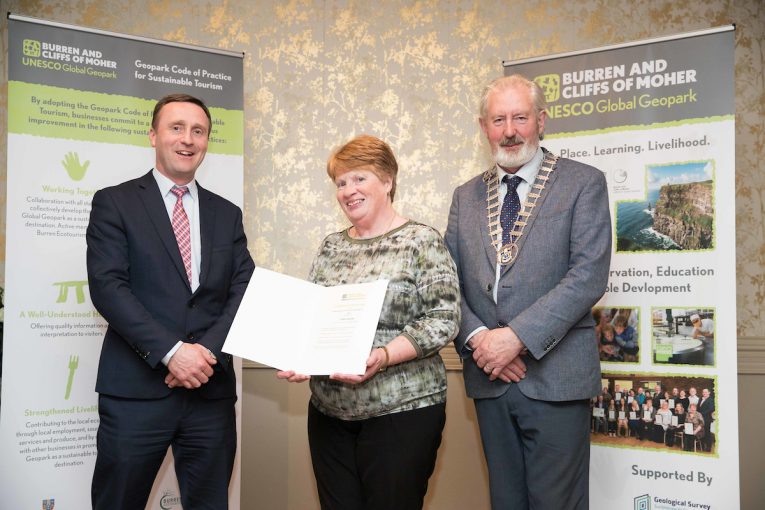 Most Photographs by Eamon Ward Photography