Flaggy Shore Oysters is owned and operated by Conor Graham and Mark Commins, two business partners who also run the popular seafood restaurant, Linnane's Lobster Bar in New Quay. Their delicious oysters are locally farmed and carry a unique flavour from various nutrients that travel through the underground river systems in the Burren.
Story
Mark and Conor have both always shared a passion for oysters and met at the European Oyster Opening Competition where Conor was representing Ireland. The two became good friends and soon got into business together when they began running Linnane's Lobster Bar in 2017. In 2022, they expanded their seafood enterprise by purchasing Flaggy Shore Oysters, which is located beside New Quay pier and overlooking the pristine waters of Aughinish Bay.
Conor and Mark source their oysters from two local farmers, Tommy Connolly who is located in Kinvara, and Fergal Langley who is based in Muckinish Bay. Both farmers grow their oysters in Garde A waters, meaning that the oysters come from the cleanest possible source. Once the oysters are delivered, they are washed and purified. They are then kept in holding tanks until needed, once the oysters are required they are washed again, packed and dispatched to Ireland's finest restaurants and food enterprises. Having total control over the preparation, production and packaging cycle allows Conor and Mark to be confident in providing the freshest, most high-quality produce available.
The Land and Sea
Flaggy Shore Oysters are sourced in the small bays on the northern coast of the Burren. In this area, the sea is intimately linked to the land. The limestone hills of the Burren that form a wonderful backdrop to the wild coast have very little surface water, most rainwater flows hidden in underground conduits and caves before entering the sea just offshore. These underground freshwater rivers transport nutrients from the land that nourish the oysters, as well as the carbonate they need to build their shells. This carbonate comes directly from the dissolving limestone and the fossils in the limestone, so it is accurate to say that 330-million-year-old fossil shells contribute directly to the shells of the Flaggy Shore oysters we eat here. In time, some of these oyster shells will be buried offshore and become fossils themselves.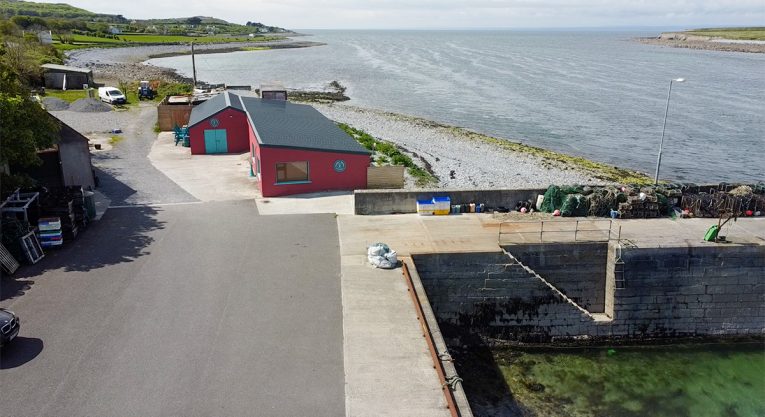 Sustainable Practice
The owners of Flaggy Shore Oysters are members of the Burren Ecotourism Network of sustainable tourism businesses and adhere to the Geopark Code of Practice in Sustainable Tourism.
For more information on Flaggy Shore Oysters, visit www.flaggyshoreoysters.ie/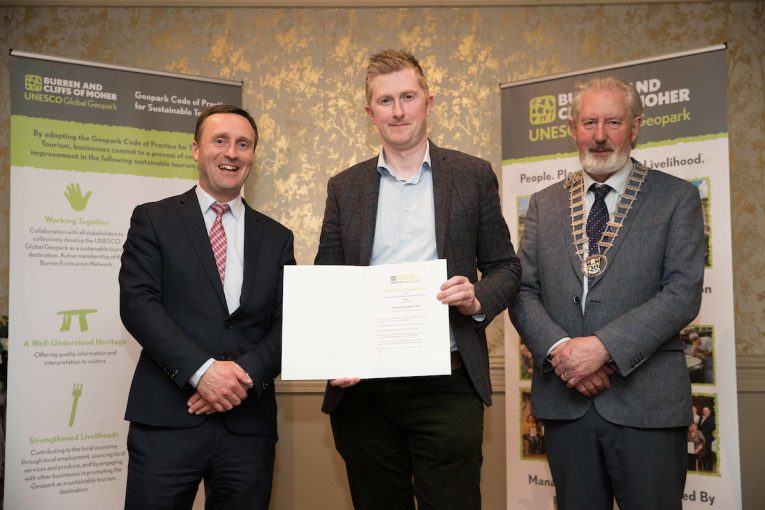 Most Photographs by Eamon Ward Photography