The O'Rourke family farm is located near the small village of Boston in the Eastern part of the Burren and Cliffs of Moher UNESCO Global Geopark. The O'Rourke's launched their delicious brand of beef called Burren Premium Beef to sell directly to consumers in October 2020. Since then, Burren Premium Beef has become a popular choice for local restaurants, chefs, and customers. The practices that go into developing this product are steeped in heritage, native traditions, and organic and sustainable procedures. Their style of farming allows the biodiversity of the land to easily replenish and thrive. It also benefits the animals, allowing them to live and grow in a natural pace and way, resulting in quality of life for the animals and better beef for humans.
Story
The O'Rourke family have been synonymous with farming in North Clare and South Galway for generations. Their family farm is an excellent example of traditional farming methods that have helped shape and conserve the Burren landscape for centuries. The farming system which they carry out is an extensive grass-based calf to beef system where all animals are reared on the farm and remain here until the end of life. The cattle are grass-fed and range freely over the extensive pastures; all cared for and maintained through the regenerative and traditional 'Winterage' farming practices the O'Rourke's implement.
All aspects of the production cycle are managed locally within the Geopark. The O'Rourke family process many of the animals themselves. The beef is butchered by a local craft butcher, who extracts the best cuts. The beef is aged for 28 days, for maximum flavour and tenderness.
The O'Rourkes also run a unique farm visitor experience called Burren Farm Experience. Information on this can be found at www.burrenfarmexperience.ie
The Land
The geology in the land where the Burren Premium Beef cattle are reared is common for much of the Burren. It consists of beds of limestone that are 330 million years old. The limestone contains fossils that lived in a long-gone shallow sea that were alive when the Burren was located close to the equator. The farm is also home to many historical and archaeological features from pre-famine settlements, the remains of a chapel from the 1700's, and an enclosure dating from over 2,000 years ago.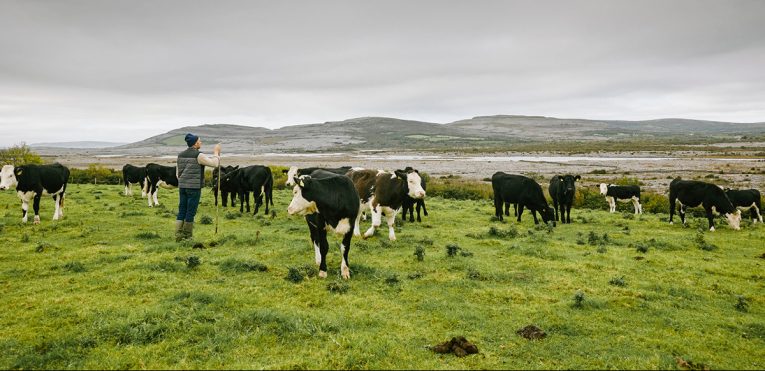 Sustainable Practice
The owners are longstanding members of the Burren Ecotourism Network of sustainable tourism businesses and adhere to the Geopark Code of Practice in Sustainable Tourism.
For more information on Burren Premium Beef, visit www.burrenpremiumbeef.ie/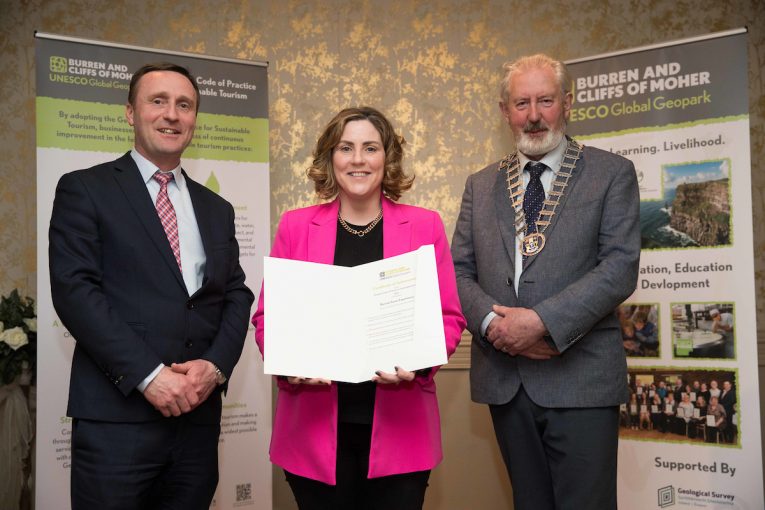 Most Photographs by Eamon Ward Photography