39th European Geoparks Meeting
21st-25th March 2017
We are delighted to be hosting the 39th EGN Meeting in the Burren and Cliffs of Moher UNESCO Global Geopark.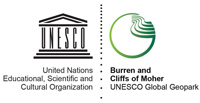 We are looking forward to welcoming you to our Geopark.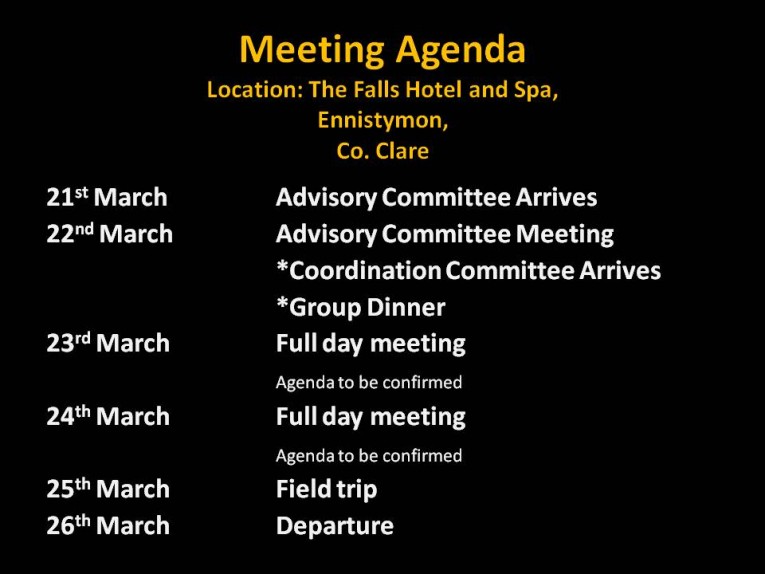 Getting Here
Fly Shannon. Shannon Airport is an international airport with European connections through London. It is our regional airport and the most convenient to accessing our Geopark.
Airlines: Aer Lingus offer connections to Shannon through London Heathrow and Ryanair offers connections through London Gatwick and London Stanstead.
Connections from Dublin Airport: If you decide to fly into Dublin Airport you can book a bus transfer with Dublin Coach. Buses leave Dublin Airport every hour and your destination will be Ennis.
The bus stop in Ennis is beside the Temple Gate Hotel, in the heart of this picturesque town. Transfers to the Falls Hotel, Ennistymon will depart from the hotel reception at times to be confirmed.  The hotel will provide a place to store your luggage, coffee, wifi and a cosy lounge while you wait.
Attendance and Flight Registration
please register your attendance and flight details below as this will help us coordinate transfers.
[ninja_forms id=8]
Hotel and Field Trip Booking
Accommodation and field trip bookings should be made directly with the hotel.
Venue: The Falls hotel and Spa, Ennistymon, Co. Clare.
Booking steps: 
Step 1: Click on the link below to go directly to the Hotels website
Step 2: On the top right hand corner of the home page is a red button 'book now'. Click on this
Step 3: Enter your dates, then one of the following codes into the rate code box :
GEO-2 (Two night stay)
GEO-3 (Three night stay)
GEO-4 (Four night stay)
GEO-5 (Five night stay)
Follow the instructions from there…. when you are asked to put in your personal details the Field Trip option will pop up.
If you have any problems, please contact Sharon Malone at sales@fallshotel.ie
Queries: If you have any queries on your accommodation or field trip booking you can contact the hotel directly
Tel: +353 65 707 1004
Email: reservations@fallshotel.ie
Field Trip Details – 25th March 2017

The field trip will include visits to the following:
A Snapshot of Our Geopark