About Doolin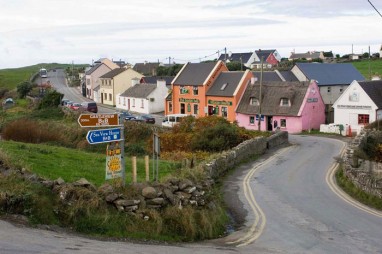 Dubh Linn – The black pool.
Doolin lies on the south-western extremity of the Burren and is internationally renowned as a centre of live Irish music, played in its many hugely popular pubs. It has a wide range of accommodation, and good quality restaurants. Popular all year round, most of the activity in the village focuses on the original areas of 'Fisherstreet' and "Roadford". Doolin is an excellent base for exploring the Cliffs of Moher, Doolin Cave (Poll an Ionáin) as well as the Burren and its Atlantic coastline. Doolin is also popular as the departure point for the Aran Islands Ferry, and Cliffs of Moher Cruises.
Doolin (Dúlainn in Irish) is a coastal village in County Clare, Ireland, on the Atlantic coast. It borders the spa town of Lisdoonvarna. There are numerous nearby archaeological sites, many dating to the Iron Age and earlier. Doonagore Castle and Ballinalacken Castle are also in the area.
One of Doolin's claims to fame is that it is the main setting for the PlayStation 3 game Folklore. According to the game's storyline, the Netherworld, the world of the dead is a realm that can only be accessed from one place in the world, the sea-side village of Doolin.
Doolin is one of three places (Galway and the village of Rossaveal on the northwest shore of Galway Bay are the others) with ferry services to the Aran Islands, which are visible from the town. Doolin is also close to the Cliffs of Moher, and a bus service between Galway and Limerick/Ennis calls at both Doolin and the cliffs in each direction. The area is at the south-western corner of the Burren region.
[actonbv_wp town_id='48' data_point = 'Things to do']
[actonbv_wp town_id='48' data_point = 'Places to Eat']
[actonbv_wp town_id='48' data_point = 'Places to Stay']
[actonbv_wp town_id='48' data_point = 'Craft and Local Produce']
[actonbv_wp town_id='48' data_point = 'Emergency|Local Services']
[actonbv_wp town_id='48' data_point = 'Map']