About Carron
An Carn – A heap of stones (to identify a chiefs grave).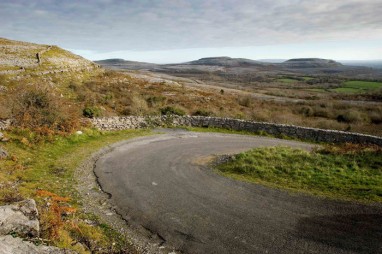 Carron village lies in the centre of the Burren overlooking the region's largest Turlough. It is the only village in the high burren and features the bare necessities of country life – a church, school, pub and restaurant (Cassidy's – Croí na Boirne).
Birthplace to Michael Cusack, founder of the GAA, whose original homestead has been fully restored and a contemporary visitor centre developed.
Carron is a walkers paradise boasting three nationally recognised walking trails, and a choice of accommodation (B&B, self catering and hostel). Nearby are the Burren Perfumery, the Michael Cusack Centre, Cahercommaun and Caherconnell Stone Forts.
Within five miles of the village are The Burren Perfumery, Caherconnell Stone Fort, Gleann Ciosog (Gaelic Athletic Association pitch for the local football team Michael Cusacks), Poulnabrone dolmen, a Turlough (disappearing lake) and limestone scenery.
[actonbv_wp town_id='195′ data_point = 'Things to do']
[actonbv_wp town_id='195′ data_point = 'Places to Eat']
[actonbv_wp town_id='195′ data_point = 'Places to Stay']
[actonbv_wp town_id='195′ data_point = 'Craft and Local Produce']
[actonbv_wp town_id='195′ data_point = 'Emergency|Local Services']
[actonbv_wp town_id='195′ data_point = 'Map']