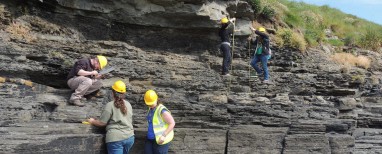 The Burren has been a place of learning for many hundreds of years; the O'Davoren Law school at Cahermacnaghten from 1500 onwards and the earlier Ó Dálaigh Bardic school at Finavarra are well documented examples. More recently, third level students from the UK, USA, Ireland and elsewhere use the Burren as a place to learn in many diverse disciplines. Maintaining the link and tradition of the older Burren Law and Bardic schools, Caherconnell Fort is now the site of a growing archaeology and geology summer field school, while the Burren Outdoor Education Centre at Turlough has been providing Irish secondary schools with field-based geography courses for many years as well as collaborating with the Burren and Cliffs of Moher Geopark in proving an introduction to geology evening course for adults.
This Research Archive is being compiled by the Burren and Cliffs of Moher Geopark as an acknowledgment of the deep tradition of learning in the area and as part of our commitment to making research and information about the Burren as widely available to all as possible. Over the coming months and years it will grow and develop.
The Research Archive is divided into Reference Material and Reference Lists.
The Reference Materials section is in three basic categories; Geology, Archaeology and Ecology where you can access a collection of articles and reports.
The Reference Lists section is subdivided into 5 categories; Burren Geology and Caves, General Interest Geology and maps relating to the Burren, Archaeology, Ecology and a Booklist
We also have a series of links to material available in the Clare County Library
Collection of Material:
Below are a collection of articles, reports etc. split into three main categories.
Reference Lists:
Below are a selection of reference lists the Geopark has put together of Books, Academic material and Maps all relating to the Burren area and Co. Clare.
Acknowledgements
The Burren and Cliffs of Moher Geopark would like to acknowledge the work of Eoghan Daly in compiling this archive. A special thanks to Les Fox and Sarah Gatley of the Geological Survey of Ireland, The Earth and Ocean Sciences Department at NUIG, The Royal Irish Academy and all the publishers who have contributed to this research archive. In particular we acknowledge all the researchers whose work gives us so much food for thought.