The Burren & Cliffs of Moher Geopark App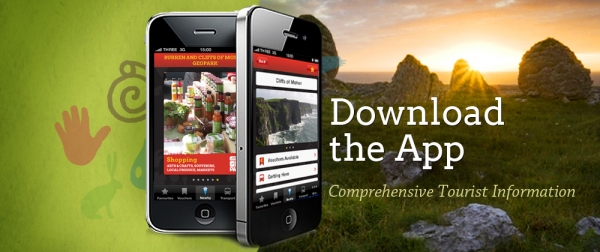 The app includes:
• Places to Stay – hotels, B&B's, guesthouses, self catering, hostels
• Places to Eat – cafes, pubs, restaurants etc
• Things to Do – attractions and activities
• Craft & Local produce – crafts, markets, fairs
• Emergency & Local Services – doctors, chemists, Service Stations etc
• Public Transport – bus routes, taxi services, bicycle hire, car pooling
• What's On – annual music, festivals and event guide
You can use the filter function to sort information quickly by town and category
The app also includes:
• Mapping and directions
• Journey Planner
• Exclusive vouchers offering green travel intensives for visitors whilst travelling in the Burren
Businesses listed on the app are members of the Burren Ecotourism Network.
The App is free and available on iPhone and Android. Download this App today and enjoy the beauty and attractions of the Burren and Cliffs of Moher Geopark!


Screen shots of the App

The app was funded by NPP Transtourism – aiming to make public transport in rural areas more sustainable, accessible and attractive to visitors. For more information on the Transtourism Project please visit www.transtourism.eu